From Humble Beginnings To Coffee Extraordinaires
It all began in 1993, Delta, British Columbia, when two entrepreneurial business graduates started on their mission to serve delicious coffee to their community.
Cut to present day, and the brand is still doing just that! From one successful coffee shop to a family of worldwide stores, Esquires has become a globally-recognised leader in the ethical coffee industry.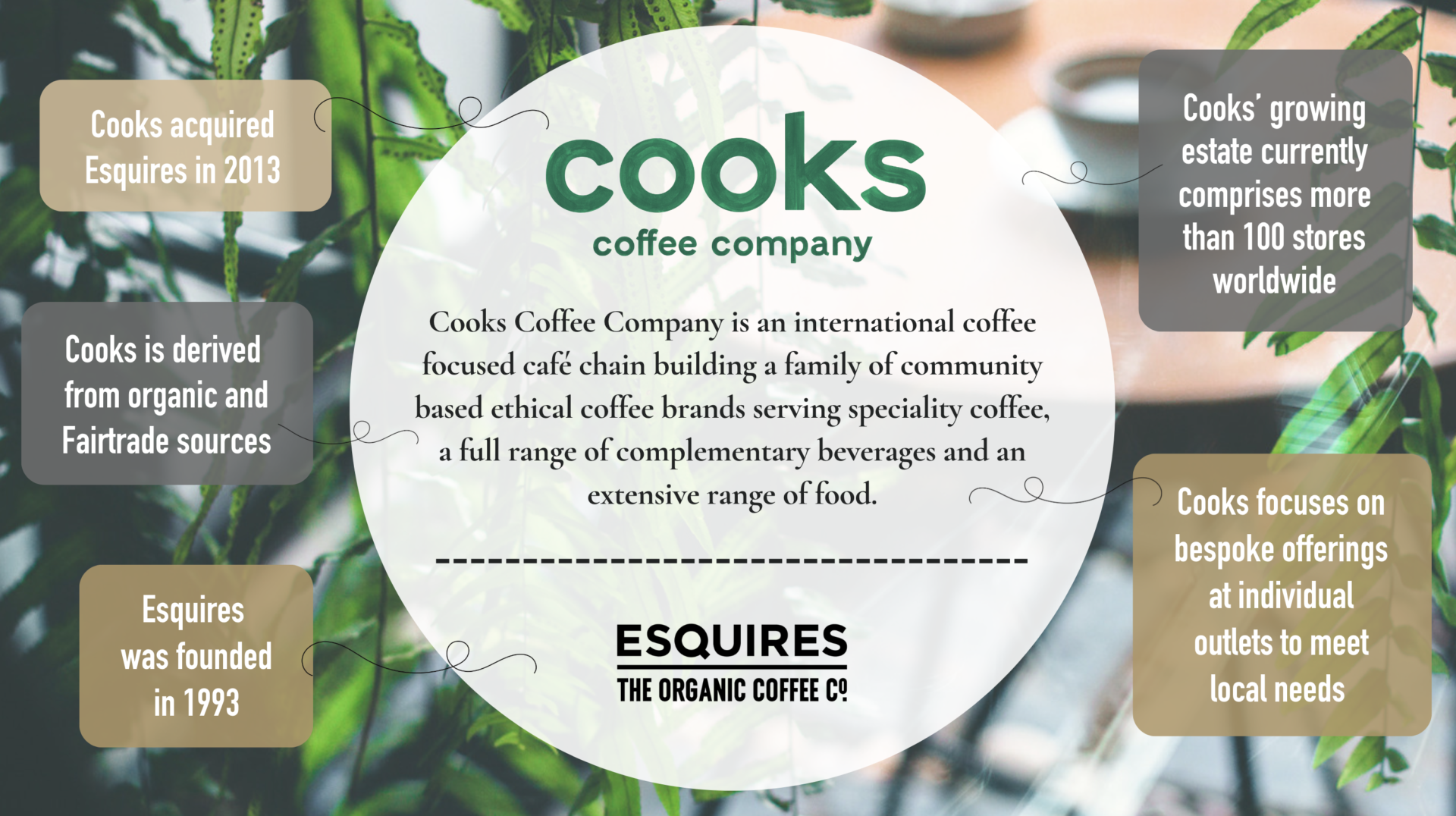 Esquires Journey With Cooks Coffee Company
Our success is in no small part thanks to Cooks Coffee Company an internationally recognised chain that specialises in helping an ever-growing family of brands serve premium coffee and a complementary range of food.
Cooks Coffee acquired the global rights to Esquires in 2013 due to similar values based on maintaining a culture that values people and the planet we share, always prioritising ethical and sustainable business practices.
Cooks Coffee Company invests in opportunities that span the globe. However, despite a wide-reaching presence, Cooks Coffee and Esquires recognise the value in providing cosy café experiences for local communities, focusing on Ireland and the UK in particular.
Subsidiary brands of Cooks Coffee are also carefully chosen, selected only if they display a commitment to deriving coffee from purely Fairtrade and organic sources. 
As the Esquires coffee franchise brand continues to grow, so too does our appreciation of great coffee and the loyalty of our customers around the world.
Esquires Coffee is all about exceptional coffee and superior customer service in a warm and friendly, environment. As an international franchise, we stake our reputation and our growth on the quality of our coffee, the expertise of our people, and the effectiveness of our partnership model. From the friendly smile of a barista to the daily dedication of our franchise owners, we are a team of people who pride ourselves in the Esquires brand.
The brand is positioned as premium mainstream and has a strong reputation for its organic coffee, contemporary food offering and its local franchisee ownership.
Its certified carbon neutral roastery has direct links to coffee farmers.
We strive to ensure that each of our coffee houses becomes an integral part of the community it serves, and we encourage their involvement with local charities, schools and causes in need. Our Franchise owners are known for their friendly service and local knowledge and we know from our customers that they are seen as being a central part of the community.
Our customers have a discerning palate who appreciate not only a great coffee, but are also conscious of its origins and how it is produced. We are abundantly aware of the needs of worldwide communities and have chosen to support the worldwide coffee community by only buying and serving our customers with 100% Fairtrade and Organic coffee.