Esquires Coffee Franchise owner Agata Danielkieiwcz opened her doors to the public on the 19th June 2018 in Catherine St., Limerick. The new Esquires Coffee outlet has created 10 new jobs and offers all the products and hallmarks that have made the Esquires' franchise opportunity so successful in Ireland and around the world.
"At Esquires, our main aim is serving that perfect cup of coffee combined with the freshest locally sourced produce. Relax with the daily papers and our professional 'baristas' will take care of the rest. We always strive to provide our customers with excellent customer service, it is and will always be a hallmark of our business," adds Agata.
Agata explains the history and how it all came about:
"I have always had a love for coffee since I started working part-time in Esquires from the age of 14. I used to work at weekends and then on school holidays took the opportunity to work full hours. The art of coffee fascinated me and when I left school I knew what I wanted in life and that was to own and run my own coffee house. With that in mind I knew there was a lot to learn not just about making coffee but also how to run and operate a business. I was lucky enough to be offered a full time position in Esquires and spent a number of years working in all the different positions building up my knowledge of the food and beverage industry which provided me with an excellent apprenticeship in the business. To help further my knowledge of the coffee industry, I joined Speciality Coffee Association (SCA) to avail of their unique training courses to allow me be a recognised SCA Trainer worldwide. There are 1,500 such Trainers worldwide and when I achieved this status, I became the youngest SCA trainer in Ireland to achieve this grade. Now that I am an Authorized SCA Trainer (AST) I am fully qualified to deliver the full range of SCA courses worldwide. Having a recognised qualification in coffee, I then felt the time was right to go out in to the world and see how other brands ran their business. It was all good learning for me for when I would eventually go out on my own. One thing I soon learned was going out on my own was not the best option to take, I could see the benefits that a franchise offered in terms of operational support, training, systems, IT, supplier network and knew that this was the road I needed to go down. I then had to make a decision which coffee franchise do I go with! In the end the choice was very easy for me, Esquires was head and shoulders above any of the other coffee franchises. As a brand they take seriously their responsibilities in terms of being environmentally responsible, only sourcing responsibly sourced Fairtrade and 100% Organic coffee, having artisan values at the heart of everything they do and only serving wholesome, healthy food options. Their focus is on the local community and I very much identify with that, as our tag line says 'Love Local'."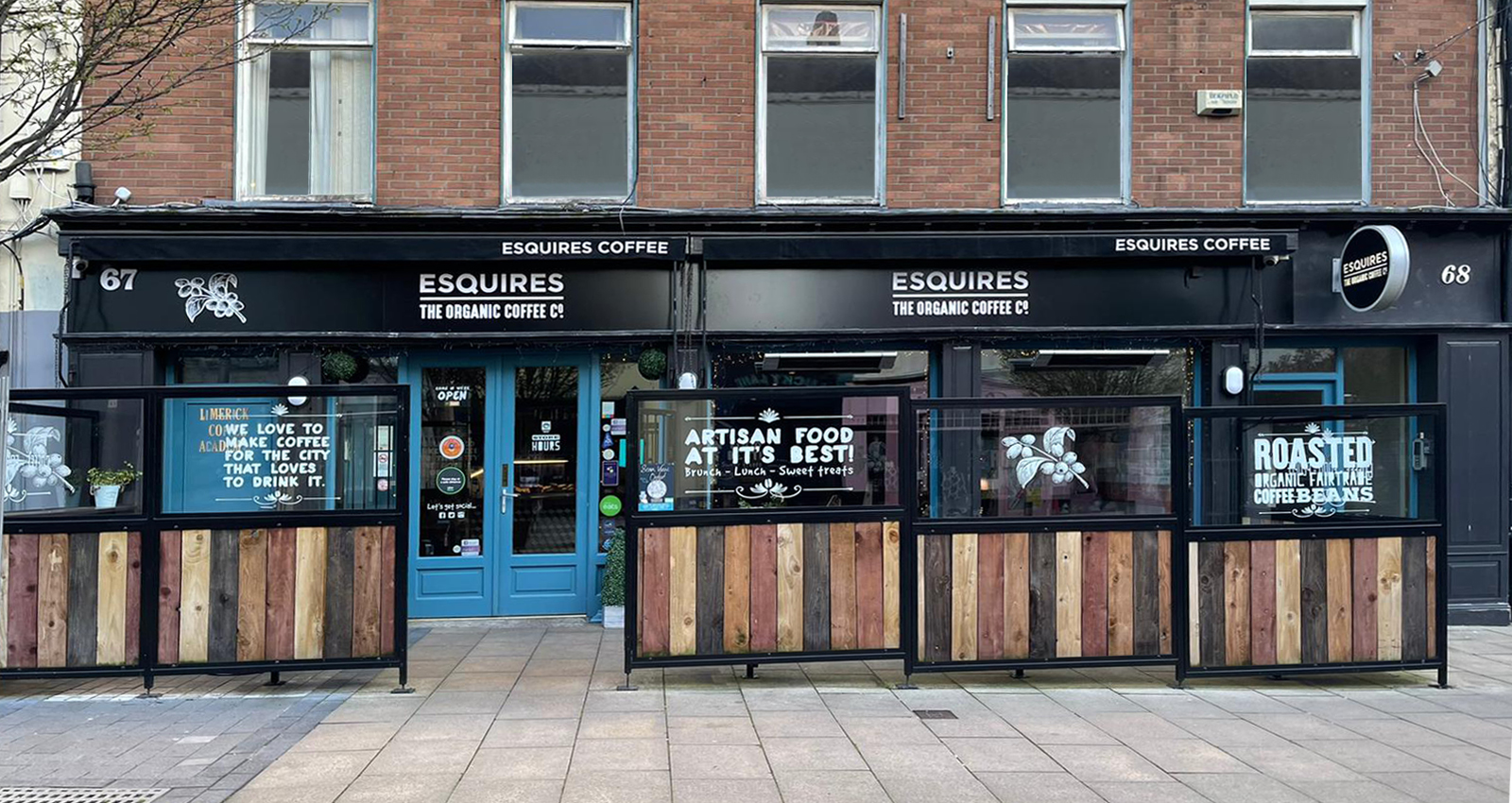 "I made contact with Esquires and once everyone was happy with each other, we set about looking for suitable premises. We eventually settled on the premises in Limerick and Tony McVerry, Master Franchisee, sorted out everything for us in terms of the negotiations, lease, fit out, everything really, a real turnkey job. I also have to pay tribute to the professionalism of the whole Esquires team in guiding me through the lead up to opening, during and after. They took care of recruiting staff, they performed all the training, their Operations people took control of setting up all the accounts, getting the best deals, doing all the ordering and stayed with us right through until we were happy to paddle our own canoe. The Head Office team is very experienced, professional and hands on, they very regularly visit us and we know they are always on the other end of a phone. I have to say the ongoing support we have received from Esquires has been excellent.
What I also like about Esquires is the people involved are very trustworthy and that is important in a business relationship. Tony pointed out that all Franchise owners need to show a willingness to work hard, have a love of the business and a dedication to excellent customer service. One thing I have learned about franchising is, it's very much a partnership between the Franchisor and Franchise owner, everyone has to work with each other for each other and that's the way it has been from day one."
"I always felt I would like to open up a top class coffee house where people could come in, relax, enjoy good food, good coffee and good company in very nice comfortable surroundings and I am glad to say the feedback I have got since we opened has been truly amazing, the coffee house looks incredible and our wonderful customers love to come in for a chat with the staff or to meet up with friends or family.
I have to say I am very happy with the way things have gone for me. It's been a total life change, we are doing extremely well and I am now at a stage where I can relax a bit more and start planning for my second store which I hope will take place in 2022. Finally, I would say to anyone who is considering getting in to the café business to strongly consider Esquires Coffee, they have a great product and are really good people to deal with." says Agata.