Tony McVerry introduced the Esquires Coffee brand to Ireland in 2000. As the Master Franchise Owner for Esquires Coffee Ireland, Tony built a very successful franchise operation here in Ireland. Esquires Coffee store in Mullingar, Ireland, which opened in April 2015 and is one of the Esquires chain's largest stores worldwide, is already delivering weekly sales ahead of all other stores in the global Esquires Coffee network. Tony had a career in banking in Ireland before he decided in 2000 to focus on owning and running his own company taking on the Master Franchise for Esquires Coffee in Ireland before selling his business to Cooks Global Foods in 2013.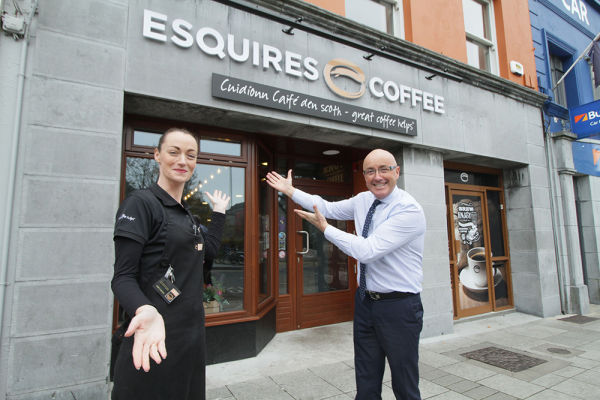 Esquires Coffee has stores in the following locations across Ireland: Swords, Carrick-on-Shannon, Clonmel, Drogheda, Galway, Longford, Mullingar, Navan, Kilbarrack S.C., Blackrock S.C. and O'Connell Street Dublin. So what sets Esquires apart from other franchises?
If sustainability is important to you – all Esquires produce is ethically sourced particularly our coffee which is Organic and 100% Fairtrade. Our unique blend of coffee beans is sustainably produced by artisan growers in Peru, Honduras, Bolivia and Sumatra.
Local personality & Community focused – Love Local – a tag line we use. Franchise owners are the champions, Happy Franchisees means Happy Customers, Our Franchisees live in the community so they have a vested interest to make sure that a top class personal customer service is offered to customers.
Natural & environmentally responsible – our look and feel, use of distressed wood etc in our fit outs, as a company we support Fairtrade, we support Organic and we try whatever we can do to help and support our Planet!
Partnership – we wholeheartedly believe that a franchise with Esquires is very much a partnership. Our success will always be judged on how successful our Franchise owners are.
Training and Support – Our Managers and Franchise owners say it – we provide first class training and excellent on-going support.
We provide a bespoke solution for every partner's needs, which includes full training, assistance with site selection and procurement, store design, lease negotiation, menu design developed specific to the marketplace, marketing, opening and consistent ongoing support. We want to hear from people who have the ability to take the brand and make the most of the potential it offers.
For further information about franchise opportunities in Ireland please complete an application in our Franchise section at www.esquirescoffee.ie or contact Esquires Coffee direct Franchise line on 091 – 452187 or e/mail us at [email protected]