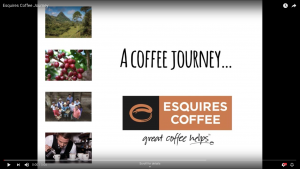 At Esquires we are passionate about the people who grow the coffee beans we cherish so highly and the environment in which they are planted and harvested.
That's why we proudly supply 100% Fairtrade Organic coffee with a variety of blends, roasted fresh and ground straight to your cup every time. We also have Fairtrade hot chocolate, sugar and tea available, and continue to seek out high quality ethically produced goods.
The Fairtrade movement emerged in response to the plight of farmers and workers in developing countries, many of whom are excluded from the benefits of international trade.
By choosing to buy Fairtrade products, you can use your purchasing power to ensure farmers in poorer countries receive a fair price for their goods. For hundreds of thousands of people, Fairtrade means the difference between a hand-to-mouth existence and a better, brighter future.
In short, by drinking Esquires coffee you're helping to change the world…one carefully made, tasty cup of goodness at a time…by ensuring farm workers are fairly rewarded, leading to a life of self-sufficiency and self-respect.
Watch the Esquires Coffee journey here.
#LoveLocal #Fairtrade