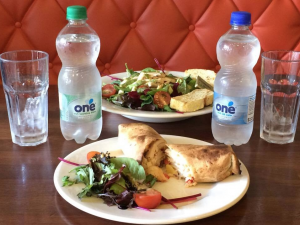 'One' bottled water is now the sole bottled water brand for sale in Esquires Coffee's stores throughout its network in Ireland, in a partnership that aligns with the ethical and community values at the core of Esquires Coffee.
'One' bottled water is by One Brand Ireland, a not-for-profit organisation that donates all profits to water-based causes in Africa. When people buy 'One' water, One Brand Ireland donates 100% of the profits to funding water projects in developing countries.
Tony McVerry, who heads up the Esquires operation in Ireland, said, "Esquires is a community-based coffee house chain. People help each other in a community, but that shouldn't and doesn't stop one community helping another community. To some extent we already do this through our ethical stance on only serving both Fairtrade and Organic coffee. Esquires and our customers now have a wonderful opportunity to build on this and in the process make a real difference to hundreds of lives. Simply by only selling 'One' bottled water in all our stores, we and our customers can change the lives of between 300 and 400 people in Africa in the next 12 months. Accordingly, as we open further stores, this number will grow year on year."
Tom O'Toole, One Brand Ireland country director, said, "One Water Ireland is delighted to partner with Esquires Coffee stores across Ireland. Esquire Coffee's commitment to exclusively stock One water enhances its industry-leading dedication to supporting ethical and community values. Our partnership will help us fund long-term, sustainable clean water projects for hundreds of people living in the world's poorest regions. It's as simple as this – when you drink One the world drinks too!"
'One' still and sparkling bottled water is 100% Irish spring water. It is currently being rolled out across all of Esquires Coffee's stores in Ireland. There are approximately 400 people employed in Esquires Coffee stores in Ireland.