A case study/interview with an Esquires Coffee franchisee – Kealan O'Connor who runs the Drogheda and O'Connell Street stores
Kealan, how did you get started in the coffee business?
"I have been involved in a number of businesses over the last few years but I always felt I would like to open up a top class coffee house where people could come in, relax, enjoy good food, good coffee and good company in very nice comfortable surroundings. As luck would have it, I came across a beautiful old Bank building that had been lying dormant for a number of years in Drogheda and immediately I realised the potential it offered. I took out a lease on the premises and then had to make a decision as to whether to take out a franchise or do my own thing. It was then that I came across Esquires Coffee. I visited a number of their stores, liked what I saw of the operation and was impressed with the ambience in the different stores. I then made contact with them and it just took off from there really. Initially, I met the Master Franchisee, Tony McVerry and felt he was a person I could work with and trust which is very important. He explained that to become a Franchisee, no previous background or experience in catering was necessary as Esquires would do all the training with both the Franchisee and staff, just a willingness to work hard, a love of the business and a dedication to excellent customer service. One thing I have learned about franchising is, it's very much a partnership between the Franchisor and Franchisee, everyone has got to work with each other for each other and that's the way is has been from day one.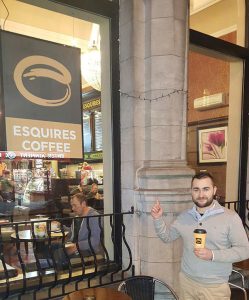 So where did you go from there?
Esquires design each store to its own individuality and Tony explained that the company's policy is to be both progressive and versatile in every respect, each new store starts off with a blank canvas. The goal was to bring the old Bank premises back to its former glory. Esquires then tasked their Designer to draw up plans to this effect. This necessitated bringing the whole building back to shell and core and starting all over again. A lot of hard work, a lot of patience, some very good days, some not so good but I am delighted to say we got there in the end. The feedback we have got since we opened has been truly amazing, the coffee house looks incredible and our wonderful customers love to come in for a chat with the staff or to meet up with friends or family.
And how do you feel now that the business is established?
I have to say I am very happy with the way things have gone for me. It's been a total life change, we are doing extremely well and I am now at a stage where I have expanded my role in Esquires Coffee and and have taken on the Area Franchise for Dublin, Louth and Meath. Finally, I would say to anyone who is considering getting into the café business to strongly consider Esquires Coffee, they have a great product and are really good people to deal with.